Slowly but surely, the ultra-energy-efficient movement in building design known as Passive House (or Passive Haus, from the German) is catching on all over the world, and recently, Ottawa become home to Canada's first certified Passive House home.
The Ottawa duplex was designed by Chris Straka, Principal of Vert Design, to Passive House Institute standards–no small feat, considering Ottawa is the world's fourth coldest capital city. (Homes built to Passive House standards use 90 percent less energy than their conventionally-built counterparts.)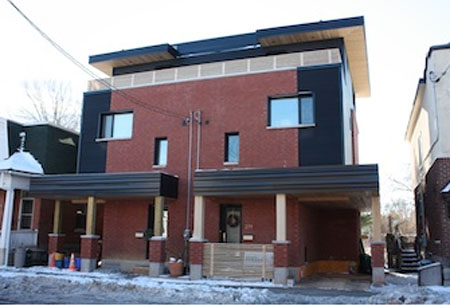 To keep residents warm during those chilly winter months, this 3,300 square foot building relies on a combination of radiant heating, a geothermal heat-pump, and a high-efficiency heat recovery ventilation system. Other green features include a 1200 square foot green roof, a rainwater cistern, and–come spring–a solar power system.
Digital Construction reports that initially, Straka was told he wouldn't be able to pull off a passive house in Ottawa without a whole lot of added expenses, but went ahead with the vision anyway, relying on a combination of traditional and green building methods. Later, after the project was built, Straka contacted Homesol Building Solutions for an energy efficiency evaluation, and was no doubt pleased to learn that this project met all the requirements for certification by the Passive House Institute.