As promised in his State of the Union Address, President Obama's proposed 2012 budget continues his administration's commitment to funding alternative energy and transportation research and development. The president aims to pay for some of his investments by jettisoning tax breaks for fossil-fuel industries worth billions every year.
Exactly what the president is able to get out of a split Congress, and in particular a Republican-led House bent on slashing spending, remains to be seen. There might be at least one area of agreement between the president and Republicans, however: the Department of Energy (DOE) budget calls for $36 billion in new loan guarantee authority for the nuclear power industry, which combined with existing authority could help get six to eight plants built.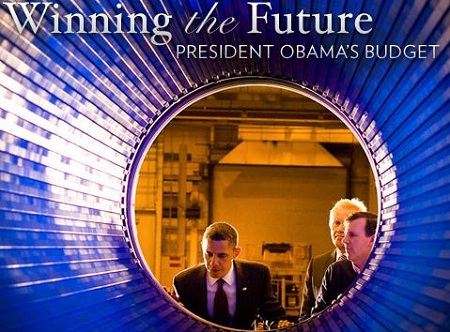 The president is likely in for a big fight with Republicans when it comes to the big savings in his budget. He's seeking repeal of "a number of subsidies and tax preferences available for fossil fuels," the White House said, a move that would boost federal coffers by $3.6 billion in 2012. He also wants to cut the budget for the Fossil Energy Office by $418 million, or 45 percent.
Overall, the White House proposes spending some $8 billion on clean energy-related topics, spread among a wide range of programs. A big chunk, some $3.2 billion, would go to energy efficiency and renewable energy programs. Nearly $600 million would fund investment in vehicle technologies.
The president's budget also proposes spending $550 million on ARPA-E, the Advanced Research Projects Agency-Energy, which provides seed money to cutting-edge technologies in the hope of spurring private investment and, ultimately, groundbreaking innovation. The program was funded with $400 million in Recovery Act money in 2009, but has been running on empty since then.
As previously revealed, the president is looking for $8 billion in the coming year to help push forward on a planned high-speed rail network that would cost $53 billion over six years, and the budget also makes way for turning a $7,500 electric-vehicle tax credit into a rebate.
Finally, while solar, wind and other fairly mature renewable energy sources do well in the budget, hydrogen research does not; funding for a DOE hydrogen technology program would be slashed by more than 40 percent in the 2012 budget "in order to focus on technologies deployable at large scale in the near term," the administration said.