A substantial wind farm in southern Minnesota has begun commercial operations this month. Owned and operated by Wisconsin Power and Light (WPL), a subsidiary the Alliant Energy Corporation, the Bent Tree Wind Farm has the capacity to generate 201 megawatts of power producing at full capacity.
The second of such farms, WPL also maintains the Cedar Ridge Wind Farm, a project north of Milwaukee capable of a 68 MW output. The Bent Tree Wind Farm, however, is expected to double the output of Cedar Ridge by using 122 V82 turbines, spread out over an area of 32,500 acres, with each able to produce 1.65 MW of electricity. At peak power, Bent Tree will be able to power somewhere in the neighborhood of 50,000 homes.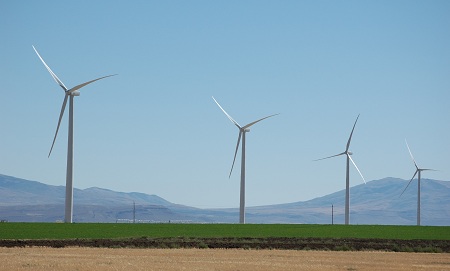 During the construction of the Bent Tree Wind Farms, stream crossing paths used by migrating cranes were negatively impacted. But according to Alliant Energy, the wetlands have since been restored to their original state. At the moment, the 32,500 acres of land used for the wind farm have not been fully developed. WPL hopes to increase production to 400 MW in the coming years; however, no timetable has been set. Once fully developed, each year Bent Tree will provide about $1 million in tax revenue to Freeborn County, and offset CO2 emission equivalent to removing 82,000 cars from the road.
The $425 million project has become Minnesota's largest wind farm. Although Bent Tree falls behind huge wind farms in Texas that can produce over 700 MW, even at its 200 MW half-capacity mark the initiative improves the United States' current wind power portfolio.