When you hear the words "twin towers," chances are, you're thinking of Ground Zero in New York City. A new architectural design by ARXX studio (Vittorio Minervini e Giacomo Sanna of Rome) seeks to take those connotations out of the past and into the future with two soaring skyscrapers bristling with wind turbines.
The Gullwing Twin Wind Towers design, created for eVolo Magazine's 2010 utopian skyscraper competition, makes use of a system of turbines mounted on a series of circular guides, which are operated by the wind as it pushes its way around the surface of the buildings' facades. This mechanical energy is then converted to electricity used to power the buildings.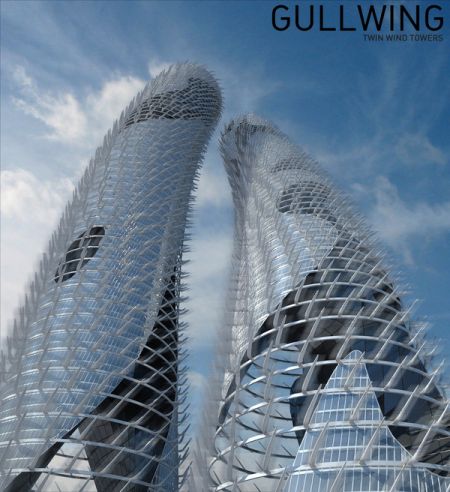 The cylindrical shape of these towers–as well as their proximity to one another–was selected in order to optimize the flow of wind around the buildings. And while it seems that such a system might hinder views from within, the architects note that there are voids between the turbines that provide daylighting to the residences and offices in the buildings.
The Gullwing is one of many projects competing in GE's EcomaginationChallenge this year, which seeks innovative solutions to powering the homes of the future. You can vote your support for the Gullwing design online.