Eeeeek! A mouse! Or is that an eco-mouse?  Hot on the heels of what is believed to be the first keyboard to be made from renewable materials, the Fujitsu KBPC PX ECO–which replaced 45 percent of the plastic keyboard components with materials from renewable sources–Fujitsu has launched a new 100% biodegradable computer mouse.
Composed of eco-conscious plastic substitutes Arboform and Biograde, the Fujitsu Mouse M440 ECO looks like a normal plastic mouse and offers, among other features, a scroll wheel and high accuracy 1000 dpi optical sensor. The only difference you may notice is the greater elasticity of the materials involved, which Fujitsu highlights as providing a reportedly more comfortable, ergonomic grip.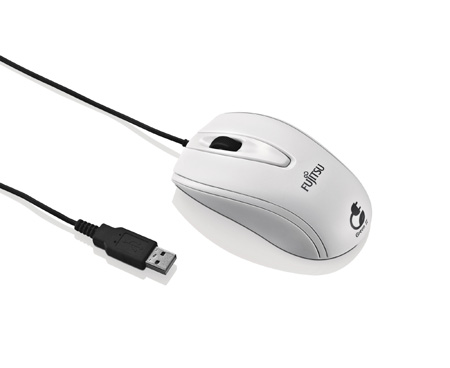 The Mouse M440 ECO is available now through Europe, the Middle East, and Africa. Pricing varies according to country, but Rajat Kakar, Vice President Workplace Systems at Fujitsu Technology Solutions, highlights the fact that while the tech is a greener computing alternative, it won't cost more than a standard Fujitsu mouse.