Can a home energy management system developed based on proven behavioral science make energy efficiency more intuitive and, well, efficient? Tendril Energy thinks so, and is out to prove it with its new Tendril Energize home energy application suite.
Based on research reportedly grounded in behavioral and cognitive psychology, Tendril Energize is said to allow for different user habits by allowing customers to connect with the utility online, via mobile devices, in-home displays or even through traditional paper reports while providing a supportive learning environment where consumers can set efficiency goals, measure the progress they've made towards those goals and share experience with experts and other users. The net result, according to Tendril, is "the persistent active participation of consumers in managing their home energy use."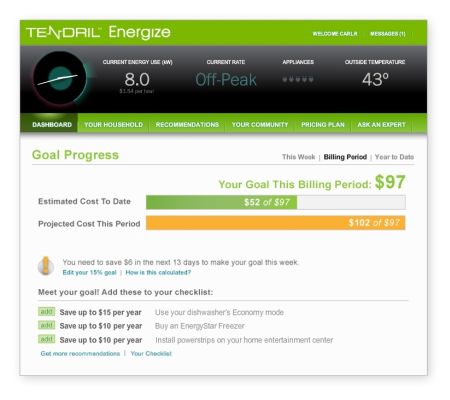 Interestingly enough, this psychological approach to home energy management is based on Tendril's acquisition of GroundedPower, a company that created a technology called the "Interactive Customer Engagement System" for consumer-driven energy management and efficiency, which actually has its origins in the Web's largest smoking cessation community. (If this system can get us to stop smoking, maybe it can get us to stop wasting energy, too?)
The suite is built around the company's open standards-based, scalable and secure platform that allows utilities and third party partners to deliver their own programs for home energy management–such as energy efficiency, Demand Response, direct load control, electric vehicle and appliance management, and eventually, distributed generation–in ways that make sense to customers and spur active participation.