We see a lot of energy management systems, but most of what breaks into the news seems to focus on the home market as companies like Google, Microsoft, GE and Verizon introduce products and services. A less-familiar New Jersey-based company is angling to get business from business with its new product.
The company is CrunchEnergy and the product is the CrunchBox.  It sounds a little like a breakfast cereal but, no, it's an energy monitoring and management system that CrunchEnergy just launched with the promise that it will help businesses "use less energy and, as a result, spend less money."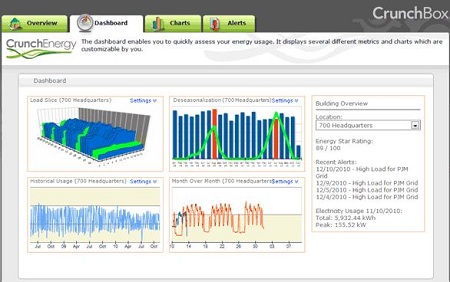 The company says on its website that the Crunchbox breaks down to three key elements, beginning with data capture that includes direct usage data input, continuous data feeds and static databases. It then uses proprietary algorithms to provide data analysis, including cleaning and filtering, aggregation and mashup. Lastly comes the charting and reporting, through a web-based dashboard.
"By allowing facility managers to visualize and understand their energy usage, the CrunchBox highlights opportunities that can load-level and reduce energy usage in their facility," CrunchEnergy said. "As tariff rates for consumption vary based on time-of-day or season, and peak demand charges are high, ongoing potential benefits can be significant."