Electric motorcycles have been gaining ground in the racing world, and Miika Mahonen, an industrial designer from San Francisco, thinks BMW should make one. Towards that end, he designed the BMW Electric Motorcycle, a bike that makes no compromise on speed, handling, or the environment.
Seizing on the supermoto and street fighter bike trends that have recently laid siege to the urban market, this design proposes a new direction for BMW motorcycles, with an emphasis on simplicity and functionality. The aesthetic here is "radical supermoto," expressing a love for both hard-core racing and the fun of street riding.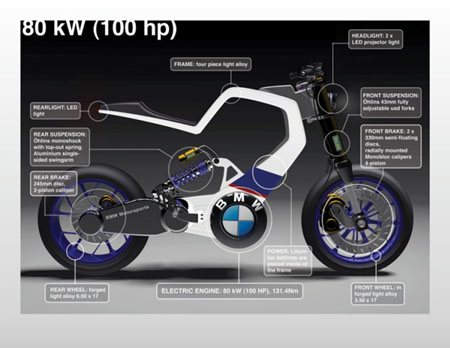 A stripped-down, four piece alloy frame supports the rider, housing an 80 kilowatt electric engine and lithium-ion batteries for power storage. The bike features disc brakes, monoshock and adjustable suspension, and LED lights fore and aft.
The design of this bike is definitely eye-catching and in line with current trends, although it looks a bit uncomfortable for long rides. (Some padding may be called for before this concept hits production.)