If you want to drop some wisdom on the federal government regarding the possible development of offshore wind power in the waters off Delaware, Maryland, New Jersey and Virginia, you need to circle March 11 on your calendar. That's the last day the Bureau of Ocean Energy Management, Regulation and Enforcement (BOEMRE) will take comments as it embarks on environmental assessments in high-priority areas there.
The U.S. Department of the Interior (DOI) has targeted swaths of the Atlantic off each state as official Wind Energy Areas, including 122 square nautical miles off Delaware; 207 square nautical miles of Maryland, 418 square nautical miles off New Jersey; and 165 square nautical miles off Virginia. The environmental assessment (EA in government parlance) is part of the "Smart from the Start" process for speeding development of renewable resources instituted by DOI Secretary Ken Salazar.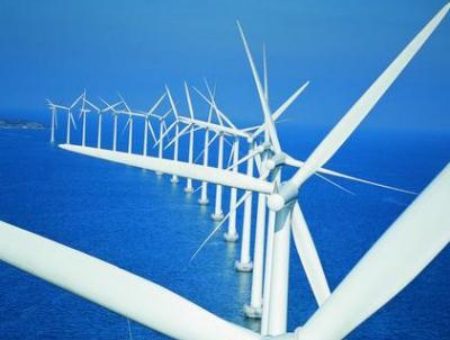 BOEMRE said it's looking for comments from all levels of government – federal, state and local agencies, plus tribal governments – as well as anyone else who might want to identify "significant issues and alternatives to be analyzed in the EA." The notice is available here on the Federal Register.
Currently, there's nary a watt of power being generated from wind off U.S. coastlines, but the Obama administration has big plans to change that. The administration envisions a scenario that includes deployment of 10 gigawatts of offshore wind generating capacity by 2020 and 54 gigawatts by 2030.