Washington State, which last year joined neighbors to the north and south in working on a new infrastructure to support electric vehicles moving up and down the heavily traveled I-5 corridor, is now promoting an offshoot from that which is billed as the nation's first EV friendly scenic byway. The road of choice is U.S. 2.
Washington government officials said that, via funding from the Recovery Act, plans are in place to install two to three EV fast charging stations at stops along the popular U.S. 2 route, which takes folks from Seattle into vacation spots in North Central Washington. In addition to these federally funded charging stations, various local entities also are installing Level II charging stations of their own. These include the Port of Chelan County and the Advanced Vehicle Innovations Consortium in Wenatchee, WA. Over a half-dozen additional destination property owners and public entities from Leavenworth to Chelan will likely do EV stations as well, making for a total number somewhere between 12 and 15 along the 120 mile byway.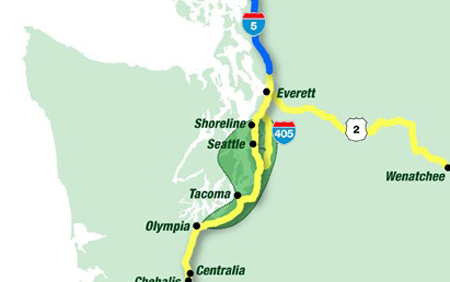 The Stevens Pass Greenway, as this roadway is also know as, is said to be one of the richest scenic byways in Washington. Originally developed for the Old Great Northern Railroad, this route winds its way through dense forest, mountain ranges and green valleys, past orchards and wineries of Wenatchee, family farms and the Bavarian village of Leavenworth.
Like what you are reading? Follow us on RSS, Twitter and Facebook to learn more and join the green technology discussion. Have a story idea or correction for this story? Drop us a line through our contact form.