ECOtality has boasted that its Blink electric-vehicle charging stations will the smartest around, and now it has the connectivity partner that will help bring the stations to life: Sprint Nextel. ECOtality said a deal with the telecom will give it the ability to control machine-to-machine (M2M) provisioning, billing and device service management, and to run the Blink Network.
San Francisco-based ECOtality is supposed to install some 15,000 charging stations in homes and public locations in the coming year through the EV Project, a program supported with $115 million from the federal government. The company has talked about a subscription-based business model for charging services, similar to mobile-phone services, that would be attractive to customers because of its advanced features – things like locating charging stations with GPS navigation, checking charging station availability, and receiving notifications of charge interruption and completion, all through a smartphone.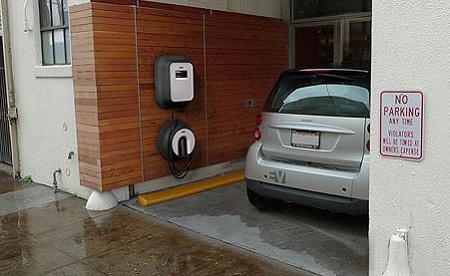 As CEO Jonathan Read told us last November, "With our charger, you're going to be able to take advantage of opportunities that you're not going to have if you go out and pick something off the shelf willy-nilly." Also, the company's Blink fast charger is outfitted with a screen for advertising, which Read has said will be targeted to the individual – another revenue stream for ECOtality, and a way supposedly to keep charging costs lower to consumers.
"Sprint is proud to provide advanced wireless network services that will allow ECOtality to monitor and manage their Blink Network," said Dan Hesse, CEO of Sprint. "In addition, our wireless data network will help process a variety of electronic payments and deliver digital content for advertising and information."