The East Channel of the East River in New York City may soon be home to the world's first tidal power plant licensed to feed into a national grid, as Verdant Power has filed an application with the Federal Energy Regulatory Commission to install 30 new tidal power turbines linked directly to the Big Apple's power supply.
Verdant's Roosevelt Island Tidal Energy (RITE) Project began on a demonstration basis in 2002 in order to test the potential for the company's proprietary Free Flow Kinetic Hydropower System within a major population center. Between 2006-08, Verdant Power successfully demonstrated a Free Flow System comprised of six full-scale turbines–composed of three-bladed turbines that generate power in fast-moving tides and rivers–delivering electricity to New York City businesses. The company is now ready to move forward with the full commercialization of the project by tying into the national grid.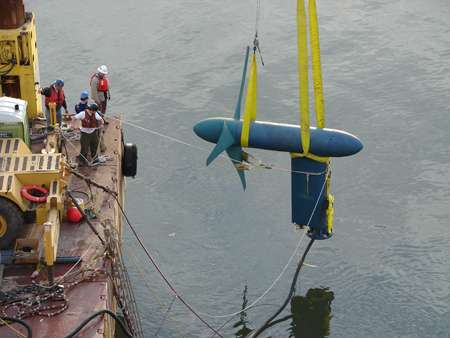 If approved, Verdant Power would install an advanced, 5th Generation Free Flow System through the proposed pilot project – an updated design developed, in part, with help from the US Department of Energy (DOE) in partnership with the DOE's National Renewable Energy Laboratory, Sandia National Laboratories, and the University of Minnesota's St. Anthony Falls Laboratory. Major funding for the RITE Project was also provided by the New York State Energy Research and Development Authority and the New York City Economic Development Corporation.
Like what you are reading? Follow us on RSS, Twitter and Facebook to learn more and join the green technology discussion. Have a story idea or correction for this story? Drop us a line through our contact form.