It isn't only what you drive, it's also how you drive. With that as a premise, Ford is giving Focus drivers EcoMode, a software application coming standard on Focus SE, SEL and Titanium models that promises to guide drivers to better fuel-economy. The payoff in real terms? According to Ford, gas-mileage improvement of up to 24 percent.
EcoMode doesn't itself influence how the car operates. Instead, it analyzes driving behavior and passes along information via a screen on how to squeeze more miles out of each gallon of gasoline. The advice offered isn't anything you probably haven't heard before: use the highest gear possible; smooth out those accelerations and decelerations; maintain a steady speed; anticipate traffic flow; flip into cruise control on the highway – things like that.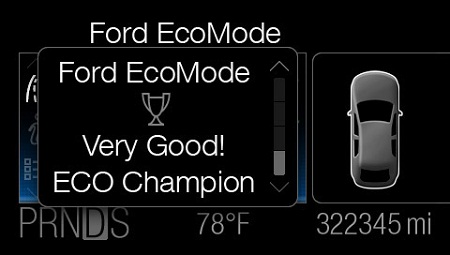 Still, Ford said getting real-time feedback and reminders can make a surprising difference. It cited recent internal tests for the 24 percent improvement figure, and suggested a 15 percent improvement is easily within reach for all drivers – which, were it to happen, would result in 22 billion gallons of gas being saved each year.
"The foot of the driver has one of the biggest impacts on real-world fuel economy of a vehicle," said Ford engineer Thomas Schick, who helped design the software. "This is a useful tool that creates awareness between personal behavior and fuel consumption and offers up hints on how to improve. Applying those hints and recommendations is all up to the driver."