V is for versatility, Toyota said, unveiling the long-awaited extension of the Prius family at the North American International Auto Show in Detroit today. The company said the vehicle will go on sale in late summer this year.
The idea behind the Prius V is pretty simply: It's the Prius for on-the-go folks who demand more space for stuff, especially offspring, with 50-percent more interior cargo space than the current Prius. But Toyota insisted it wasn't just a stretched up and out Prius –  "It is a new vehicle designed from the ground up, with a shape that evolved from Prius rather than being an elongated version," the company said.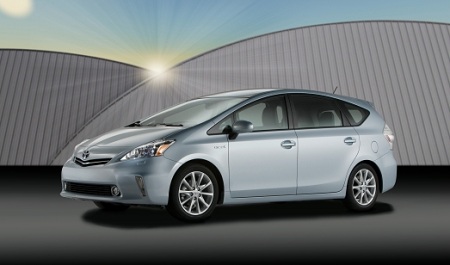 Toyota said the V has "an impressive 38-inch couple distance, providing generous rear legroom," and noted that the rear hatch opens to reveal 34.3 cubic feet of cargo, "making it the most spacious dedicated hybrid vehicle on the market and better than some compact SUVs." Reflecting its MPV status, the V has sliding second-row seats.
Toyota said it expects an EPA combined fuel economy of 40 mpg for the V – 38 on the highway and 42 in the city –  "the best fuel economy ratings of any SUV, crossover, or wagon on the market."
Like what you are reading? Follow us on RSS, Twitter and Facebook to learn more and join the green technology discussion. Have a story idea or correction for this story? Drop us a line through our contact form.