Mercedes-Benz announced at the North American International Auto Show that it would bring its SLS AMG E-Cell – a beast boasting 525 horsepower and 649 pound-feet of torque – into series production.
Daimler head man Dr. Dieter Zetsche called the vehicle "the most technically advanced super sports car in the 125-year history of the automobile," and said it would be available for order from dealers in 2013. No price was specified, but it might be one of those situations where if you have to ask, the vehicle's not for you: The regular gasoline-powered version has a base price of over $185,000.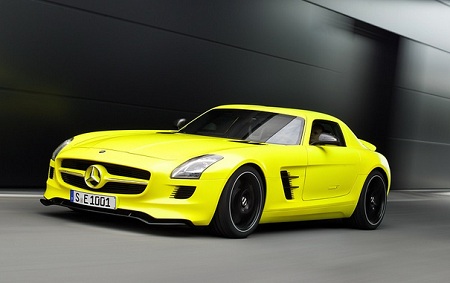 The E-Cell incorporates a liquid-cooled high-voltage lithium-ion battery featuring a modular design that is 400 volts, has an energy content of 48 kWh and a capacity of 40 Ah. The regular vehicle's 6.3-litre V8 engine is replaced with four synchronous electric motors. The result is zero-to-60 in four seconds, just slightly slower than the gas version, although the word slow probably shouldn't enter into the conversation. And yes, in Detroit, Mercedes brought the SLS AMG E-Cell forth in that wild yellow color we saw when we first got a look at the car last July.
Like what you are reading? Follow us on RSS, Twitter and Facebook to learn more and join the green technology discussion. Have a story idea or correction for this story? Drop us a line through our contact form.