Radio survived talkies and television, and now it's doing OK in the Internet age. In fact, the medium is taking advantage of the Internet, as evidenced by the new Contour Internet-connected digital radio that Pure brought to the Consumer Electronics Show.
Oddly stylish, this black, half-moon-shaped player comes with Pure's Clearsound technology which, the company said, ensures clear dynamic audio, higher volume levels and – here's the green angle – low power consumption. The Contour also features the company's Flow technology, "using Wi-Fi to connect to the Internet wirelessly and access thousands of Internet radio stations, podcasts, a library of unique Pure Sounds as well as stream music stored on a home computer or network storage device."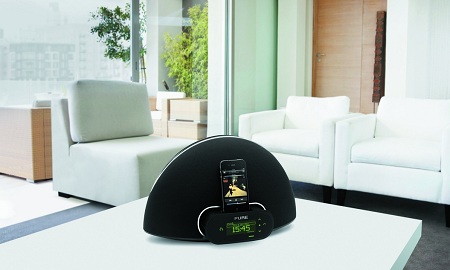 What about your iPod or iPhone? Click it into the Contour's retractable dock, easy as that. "With today's expansion, North American consumers can rediscover radio with our range of six innovative products that sound as fantastic as they look," Charles Bellfield, general manager for Pure North America, said.
Pure said to expect the Contour to reach the market in March this year, at an MSRP of $299.99.
Like what you are reading? Follow us on RSS, Twitter and Facebook to learn more and join the green technology discussion. Have a story idea or correction for this story? Drop us a line through our contact form.