Kodak is upping the ante on its Pulse digital frame, the one that has its own email address so you or your family and friends can zip the latest digital-snapshot gem right to it. In time for the Consumer Electronics Show, the company announced a bunch of new "social" features to a retooled version of the Wi-Fi enabled device, all intended to make it "even more fun to share pictures."
But what we really liked? The activity sensor. Now, instead of burning brightly constantly (or having to be turned on when you walk by and want to glance at it), the Pluse frame automatically fires up when you come within range, then powers down when you leave. Nothing amazing about the technology – motion-activated devices have been around for years – but this is a particularly apt use.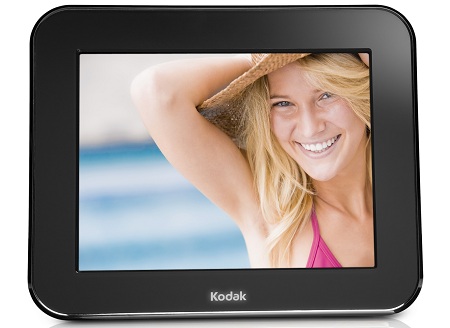 So about those social features: Kodak was awful excited about the "quick comment button" it added to the frame. The way this works is, when you receive a picture, you can click a button on the touchscreen and send a message right back, choosing from "KODAK MOMENT," "LOL!," "OMG!," "Congrats!" and "Wish I were there!"
Maybe, "You look like such a doofus!" is coming in the next iteration, but it is nice to note at least that the jacked-up Pulse also connects to Facebook and Kodak Gallery albums, streaming pictures to your frame automatically. This is on top of being able to make playlists to display your favorites on the frame.
Like what you are reading? Follow us on RSS, Twitter and Facebook to learn more and join the green technology discussion. Have a story idea or correction for this story? Drop us a line through our contact form.