Facing trouble in its own ranks in Parliament, Britain's coalition government is tweaking the plan for a new high-speed rail line that would link London – and, by extension, Europe – to England's Midlands. Transport Secretary Philip Hammond offered a revised route for High Speed 2 (HS2) that differs from the one left behind by the previous government for 65 out of its 127 miles. It would, he said in a statement, mitigate impact on homes and the countryside.
HS2 is designed to go from central London to a new Birmingham City Centre in its first phase. In London it would link with the existing Heathrow airport express line, and a new connection would be built to tie HS2 to the Eurostar service through the Channel Tunnel on High Speed One (HS1). A second phase of construction would split HS2 at Birmingham to form a Y shape as it heads north to Manchester and Leeds.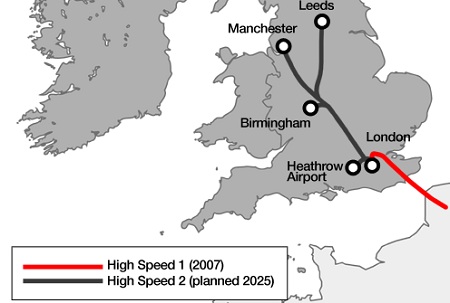 Traveling at speeds over 200 mph, the high speed rail line would bring the West Midlands within about a half hour of London and would allow journey times of around 80 minutes from Leeds and Manchester to the capital, Hammond said.
All well and good, except according to the BBC, "A number of Conservative MPs have expressed concerns about the rail link, which passes through Tory heartlands." In announcing the revised route Hammond said HS2 would "transform the way Britain works and competes in the 21st century," but acknowledged there would be "less welcome impacts … in some parts of the countryside."
Key changes in his attempt to quell the opposition included moving the line away from several villages, as well as incorporating "green" bridges and tunnels that would "reduce its visual impact and avoid severance of public rights of way."
Like what you are reading? Follow us on RSS, Twitter and Facebook to learn more and join the green technology discussion. Have a story idea or correction for this story? Drop us a line through our contact form.