It's always nice to see imaginative designs centered around shipping containers. Durable and abundant–while not exactly aesthetically pleasing, as far as living space goes–they pose a natural solution to the problem of shelter worldwide, and Frederic Debackere of East Hampton, New York, makes "life in a box" look good.
His United Green Space concept design makes smart use of both 20 foot and 40 foot shipping containers–the former for individuals and couples, the latter for families. Both make smart use of fold-out shades to harvest rainwater and solar panels for electricity as well as, of course, indoor space. The 20 foot version of United Green Space features a bed, kitchenette, toilet, shower, storage areas and windows, as well as a mechanical room that houses a portable septic tank, a rainwater filtration system, and solar hot water tank.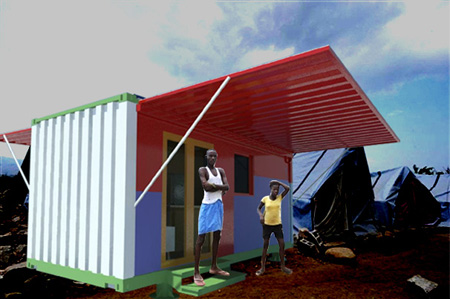 The family-sized version–designed for up to six people, assuming four of them are children–contains all this plus a common room/kitchen and full bathroom as well as a shower, two bunk beds, and a master bedroom that accommodates a double bed. All of which goes to show that small can be beautiful, even in a box.