Back in October when we introduced you to the new green-in-every-way food-science center at the University of California at Davis, we said it was aiming for LEED Platinum certification. That ambition is now fulfilled, the university announced, making the 34,000-square-foot teaching and research complex the first winery, brewery or food-processing facility in the world to go LEED Platinum.
Remarkably, the center is set to become even more environmentally friendly. Right now, the building captures, stores and uses rainwater for landscaping and toilets. But food and beverage processing is water intensive, and the university is raising funds to complete a system that will make it possible to also use the rainwater as the source of processing water for the facility. Further, that water will be captured and reused up to 10 times. When all is said and done, the university said, the new winery will use 80 percent less water than a traditional winery.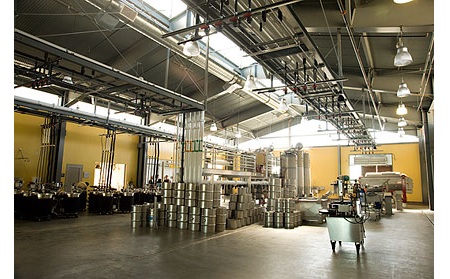 This is the second UC Davis bulding to win LEED Platinum certification, though the first on the Davis campus itself – the other is the UC Davis Tahoe Center for Environmental Sciences, completed in 2006 in Incline Village, Nev. There's just one other LEED Platinum-certified building in the entire UC system, UC Santa Barbara's Bren Hall.
Like what you are reading? Follow us on RSS, Twitter and Facebook to learn more and join the green technology discussion. Have a story idea or correction for this story? Drop us a line through our contact form.