While the federal government nudges an electric-vehicle (EV) infrastructure forward through charging companies Ecotality and Coulomb, a power provider is striking out on its own to prepare Houston — and, down the road, several more Texas cities — for the arrival of the electron guzzlers.
NRG Energy's budding eVgo network, unveiled last month, might represent only one big power company's small bet that EVs will take off. More hopefully, however, it could be seen as a sign that consumer concerns about EVs will be assuaged sooner than expected, allowing for a speedier development of the market.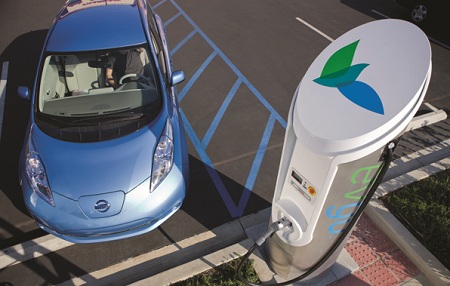 As NRG boasts, eVgo is the first EV-charging network to arise without government money behind it: Ecotality's EV Project is funded by the U.S. Department of Energy to the tune of $115 million, and Coulomb fetched $37 million to boost its ChargePoint America. That distinction alone makes eVgo interesting. But the network (pronounced ee-vee-goh) is also worth watching because NRG is moving so aggressively on the project, with a turnkey charging solution, focused messaging and an array of partnerships that could give the program legs.
While Ecotality's Jonathan Read has been talking for months about a subscription-based service, eVgo came out of the gate outlining three tidy tiers of service, from a three-year contract at $49 per month that includes installation of a Level 2 charger (but doesn't include electricity costs, and doesn't give users free access to public stations), up to an $89/month plan that covers installation and electricity costs, and gives users free, unlimited access to network stations.
Penciling out the value of these plans is difficult, but at the $49/month level, three years' of monthly fees add up to well under the $2,200 price tag Nissan has put on the purchase and installation of the same smart AeroVironment home charger for Leaf buyers (for those who don't get a charger free through the EV Project, that is).
Spokesman David Knox said NRG doesn't expect a flood of customers in the months ahead — CEO David Crane told the New York Times he foresees perhaps 1,000 signups in the first year. But eVgo is a long-term project, Knox said, and a big part of the company's task is to inspire confidence that electric vehicles will be viable. "If we can give people convenient, easy-to-understand options, then that's a step in the right direction," he said.
NRG's barrage of press releases announcing eVgo hammered away at the ease-of-use issue. Typical was Crane's statement that NRG wants to ensure that "EV owners feel 100 percent comfortable driving their plug-in car anywhere in the greater Houston area, secure in the knowledge that a fast charger is never more than a few miles away."
To make that happen, NRG is leveraging as many partnerships as possible. This isn't a novel strategy; Ecotality and to a lesser extent Coulomb have put out a steady stream of releases detailing retailer hook-ups. But in announcing eVgo, NRG was ready with a flood of partner deals.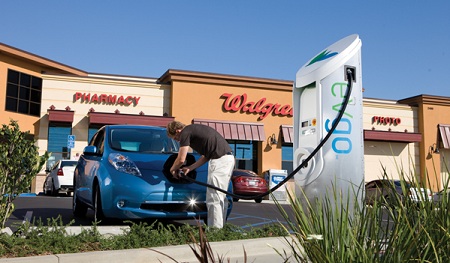 Walgreens, for instance, said it was in for 18 DC charging stations, capable of delivering a substantial charge in around 10 minutes and a full charge in under a half-hour. Hertz, too, was backing the network, committing to installing charging stations at rental locations and integrating eVgo into its NeverLost GPS system for the Nissan and Coda EVs it plans to begin renting in 2011. Hertz spokeswoman Paula Rivera also said the company is working on a program whereby EV owners could have their vehicle charged at Hertz while renting a gas-burning car for longer trips at a special rate.
Others on board are also said to be Best Buy (which also has a deal with Ecotality), the big Texas supermarket chain H-E-B, and Spec's, a specialty liquor and food purveyor.
And, importantly in Texas, where consumers can choose their electricity provider, most of the big electricity companies, like leader TXU Energy, have agreed to play with eVgo. This will allow most consumers to sign up for the unlimited charging option without having to switch providers.
All of this is serving to make what is actually a pretty small investment by Fortune 500-company standards — around $10 million, NRG said — look like a pretty big deal. And that's the idea.
NRG recognizes that in the long-run most EV charging will be done at home—and, in fact, that would be its preference, since its electricity is abundant and cheaper overnight. But it understands that right now, it needs to "maximize outward visibility of the network, because if people can see it they'll feel comfortable with it," Knox said.
Walgreen's, meanwhile, views the charging stations as a marketing tool. "This is another way we are providing our customers with an environmentally sustainable shopping experience, and it sets us apart as a retailer who is moving clean and green energy alternatives forward," Menno Enters, the director of energy and sustainability, said in a statement.
Installations in Houston are set to begin in the new year, with AeroVironment expected to have 50 of its fast stations and 50-100 Level 2 chargers in public places by the end of the 2011. AeroVironment is also providing the "energy usage monitoring and payment and subscription solutions" for eVgo, the companies said.
While the Level 2 stations would take several hours to fully charge a vehicle that was nearly out of power, NRG believes they'll be viable and valuable. A shopper could pop into a mall for a half-hour of shopping, Knox said, and emerge with 10 miles of range added to her EV. "It's part of shifting the mindset," he said, "from filling up your gas tank every week to plugging in your EV as you go about your daily business."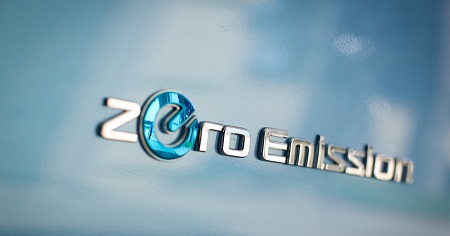 NRG said it intends to expand quickly beyond the Houston area, with plans for a Dallas-Ft. Worth network to be unveiled in February and installations there expected to unfold in 2011 as well. San Antonio and Austin will come later.
By the way, both Houston and Dallas-Ft. Worth happen to be among the areas targeted for the EV Project, which sets up a nice head-to-head competition between Ecotality and NRG in the new year. Will the free chargers from the government-backed program win out? Or will the upstart private effort? Worth watching, indeed.