Siemens is a German company, but it wants you to know it has a significant and growing stake in clean energy in the United States – and that stake isn't limited to selling stuff here. The company just opened a wind turbine nacelle factory in Hutchinson, Kan., demonstrating, Siemens said, its "commitment to U.S. investment and its confidence in the long-term future of the U.S. renewable energy market."
A nacelle is basically the housing for turbine components that generate electricity. Siemens is building nacelles in Hutchinson because it's a good central location for shipping them to wind-power plants popping up around the country. The Hutchinson plant opened with 130 employees but the workforce there is expected to triple.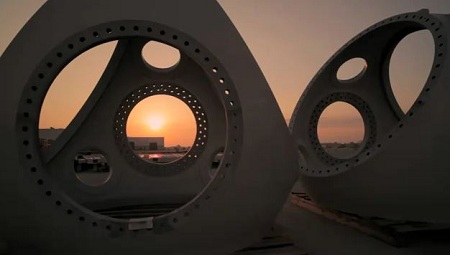 "The United States is one of the most important wind power markets in the world," Siemens CEO Eric Spiegel said in a statement. "By opening our first nacelle assembly facility in the U.S., we are closer to our customers, allowing us to better meet the strong demand for clean energy right where it's used."
Siemens ticked off a roster of U.S. factories and offices related to its wind business here: In 2007 it opened a turbine factory in Fort Madison, Iowa; there's an operation center in Houston; Boulder, Colo., is home to an R&D center; and Elgin, Ill., has two gearbox factories. In all, the company said, it employs around 1,500 people in its U.S. wind business. Siemens U.S. wind projects have a combined capacity of more than 3,600 megawatts – enough to supply power to more than one million average homes.
Looking for green gadget gift ideas for this holiday season? We have you covered with our annual Green Gadgets Holiday Gift Guide – check it out now!