Oregon has the seventh-worst unemployment rate among the 50 states, hovering well over 10 percent, but you can't blame SolarWorld for that. The company just announced that its plant in Hillsboro, the largest solar manufacturing plant in the country, has hired its 1,000th worker.
SolarWorld came to Hillsboro, about 15 miles west of Portland, in 2007, buying a former computer chip factory. "Our goals here were straightforward: to tool up annual production capacity to 500 megawatts (MWs) at the U.S. sites and hire 1,000 workers in Hillsboro by 2011," Bob Beisner, managing director and vice president of the company's U.S. operations, said in a press release. The company said it "approximately" reached the goal of 1,000 employees when Angela Beed came aboard as a maintenance technician in the company's wafer-cutting plant at the beginning of December.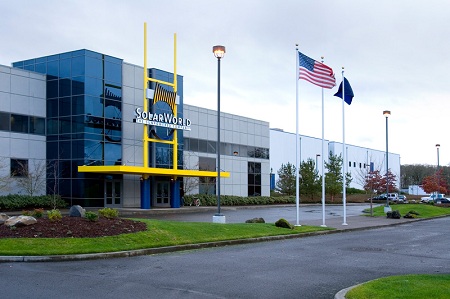 As for the 500 MWs, SolarWorld said it met that goal by building out the Hillsboro plant and modernizing its facilities in Camarillo, Calif., where another 250 people are employed.
The company also said that support from the state of Oregon has been key to its growth in Hillsboro, and also noted that in January, the U.S. government "granted it $82.2 million in renewable-energy manufacturing tax credits – the largest for a solar manufacturer among $2.3 billion in tax-credit awards."
Looking for green gadget gift ideas for this holiday season? We have you covered with our annual Green Gadgets Holiday Gift Guide – check it out now!