It's the "fun-to-drive hybrid with sport-tuned suspension," with the best EPA combined rating in luxury segment at 42 mpg. It's the new Lexus 2011 CT 200h hybrid, and it's now available for $29,120 (manufacturer's suggested retail price).
The CT 200h is the fifth hybrid in Lexus' line-up, which the Union of Concerned Scientists' Hybrid Scorecard has taken issue with, in the past, due hybrid tech that adds more muscle than efficiency. The 2011 hybrid CT 200h seems built specifically to address such flack, increasing fuel efficiency over the Lexus LS 600h L by nearly 20 miles per gallon–inching this Lexus hybrid up near the hallowed ranks of the hybrid world's top dog, the Toyota Prius (50 mpg).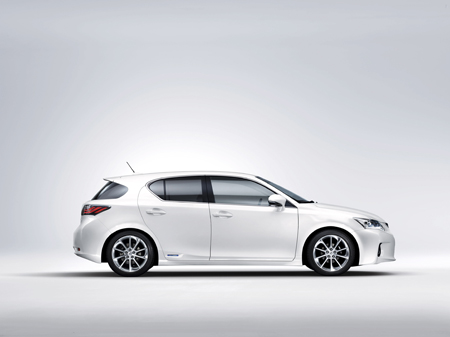 This announcement prices the 2011 CT 200h well below both the Lexus HS 250h ($34,20) and the Lexus RX 450h FW ($41,660), making it both the most fuel efficient Lexus hybrid to date and the most affordable. More information on the car is available online.
Looking for green gadget gift ideas for this holiday season? We have you covered with our annual Green Gadgets Holiday Gift Guide – check it out now!