A Native American organization said yesterday it filed suit in federal court against six large solar projects approved for public lands in the Southern California desert, charging the Bureau of Land Management failed to properly consult it and relied on faulty environmental impact statements. The suit in U.S. District Court mirrors a successful claim by the Quechan Tribe that halted work earlier this month on Tessera Solar's planned 709-megawatt Imperial Valley plant.
The new suit, brought by the La Cuna de Aztlan Sacred Sites Protection Circle, targets that same Imperial Valley project, along with the Ivanpah, Blythe, Lucerne Valley, Calico and Genesis projects. In a press release, the organization said it was joined in the suit by a group called Californians for Renewable Energy as well as six Native American individuals.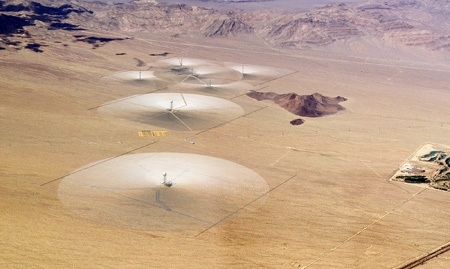 La Cuna said it claims "Indian Tribe" status under National Register of Historic Places rules, and said it has an agreement with the BLM to work with the agency to protect Native American sacred sites and cultural resources.
In its statement, La Cuna said the Obama administration's fast -track process developing solar resources led Secretary of the Interior Ken Salazar to approve projects despite inadequate environmental impact statements and government-to-government consultation with the tribes.
La Cuna is seeking a temporary restraining order to stop work from proceeding on the project, giving time for an injunction to be considered by the court.
Like what you are reading? Follow us on RSS, Twitter and Facebook to learn more and join the green technology discussion. Have a story idea or correction for this story? Drop us a line through our contact form.