Bravo, and whew! That's the general reaction of the renewable-energy industry and its advocates as the year winds down, thanks to Congress including the 1603 Treasury Grant Program in the big tax package that President Obama signed into law. The program, instituted with the American Recovery and Reinvestment Act last year, pays up to 30 percent of the cost to develop renewable-energy projects. It was due to expire at the end of 2010, but after some fierce lobbying and white-knuckle worrying gained an additional year.
One group in on the action was the American Council on Renewable Energy (ACORE), in part through its U.S. Partnership for Renewable Energy Finance (US PREF) program. "The role US PREF played on the passage of 1603 in the House and Senate cannot be understated," ACORE President Michael Eckhart said in a press release. "An issue that was unlikely to pass in June has now been included in a major piece of legislation which passed with strong bipartisan support."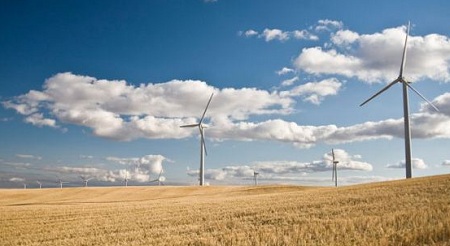 Major beneficiaries of the program – which supporters say helped create 100,000 jobs – are the wind and solar power industries. And ACORE said the American Wind Energy Association (AWEA) and the Solar Energy Industries Association (SEIA) deserved credit for their lobbying efforts.  "US PREF got on this early, providing the thought leadership and fact-based analytics that showed the value of 1603 to the U.S. economy, and the associations came in with lobbying power to help achieve this outcome," ACORE lobbyist Todd Foley said.  "It showed what collaboration can achieve, as a model for the future."
Renewable advocates may have demonstrated surprising lobbying muscle on Capitol Hill, but given that the 1603 extension is for just another year, advocates don't have a lot of time to relax. And, in fact, ACORE and US PREF said they are "already building the case for a second extension to cover the solar, wind, geothermal, hydro and biomass projects that will qualify for the grant program in 2012 and 2013."
Looking for green gadget gift ideas for this holiday season? We have you covered with our annual Green Gadgets Holiday Gift Guide – check it out now!