$225,000 for a Chevy Volt? That's the news from Detroit, Michigan, as Rick Hendrick, owner of Hendrick Motorsports and chairman of Hendrick Automotive Group, has purchased the first Chevrolet Volt offered for sale online in a charity auction that will benefit science, math, engineering, and technology education initiatives through the Detroit Public Schools Foundation.
For this amount of cash, according to a recent release, the Foundation could A) send 4,500 students to compete in a science fair, B) provide 800 kits for robotics competitions, or C) send 140 students to NASA space camp, by way of example."Every aspect of the Volt – from its aerodynamic shape to its battery chemistry – is a testament to the importance of math and sciences," said General Motors North America President Mark Reuss, in a statement. "Now, the first Volt will help cultivate the next generation of engineers who will build upon the Volt's innovative technologies."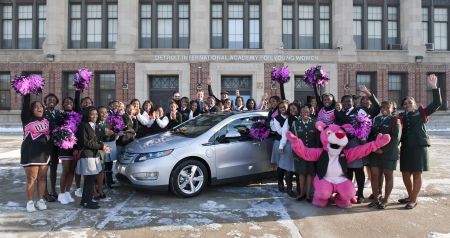 The Chevrolet Volt extended range electric vehicle (EREV) dirves 35 miles gas-free on a single charge, courtesy of its 16-kWh lithium-ion battery, and utilizes a fuel-efficient gas powered engine/generator to extend its driving range another 344 miles on a full tank.
Chevrolet began shipping Volts from its Detroit-Hamtramck Assembly plant last week.
Looking for green gadget gift ideas for this holiday season? We have you covered with our annual Green Gadgets Holiday Gift Guide – check it out now!