Blue states are generally the greenest states in a new assessment by market researcher Clean Edge, but it's a Golden State – California – that is far out in front of everyone. The ranking of states on clean-energy technology, policy and capital puts California first and its West Coast neighbors Oregon at No. 2 at Washington and No. 4, with Massachusetts sneaking in from the East at No. 3.
California scored 91.6 on the U.S. Clean Energy Leadership Index, and no other state even topped 70 points. What makes the state such a cleantech powerhouse? Well, for starters it leads in the technology and capital categories – in fact, California-based companies accounted for nearly 60 percent of all U.S. venture capital investments in clean energy in 2009, Clean Edge said in a press release.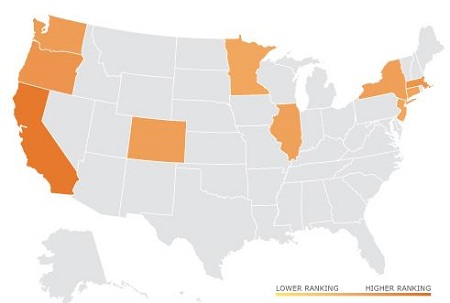 Clean Edge noted it passed judgments based on "such metrics as total electricity produced by clean-energy sources, hybrid vehicles on the road, and clean-energy venture and patent activity." There were some surprises to be found. For instance, who would have guessed Iowa was the leader in utility-scale clean electricity generation as a percentage of total electricity? More than 14 percent of its in-state generation in 2009 came from wind power, while no other state exceeded 10 percent electricity from large-scale clean-energy sources.
Looking for green gadget gift ideas for this holiday season? We have you covered with our annual Green Gadgets Holiday Gift Guide – check it out now!