There certainly is no lack of interesting electric bikes out there in the world, even those pricing for around $75,000. Recently coming onto our radar is another interesting pair of e-bikes out of Australia that are developed by Stealth Electric Bikes.
Stealth, said to have been around since 2005, was founded by an aerospace systems engineer. Given that, you can imagine these particular e-bikes are designed to look cool and go fast. They seem to fall into both niches fairly well. The two models – the Bomber and Fighter – get maximum speeds of 80 km/h and 50 km/h, respectively. The Bomber, which is the bigger of the two, also has a maximum range of up to 80 km and reportedly takes around two hours to charge in a normal power outlet.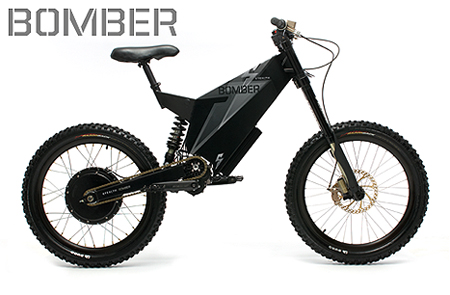 The frame of the Bomber is constructed of aircraft certified CrMo alloys, which is said to allow this bike to take quite the beating and still be in great riding condition. Pedal power, added Stealth, s transmitted via its unique 9 speed sequential gearbox, with stopping taken care of by progressive 8 pot hydraulic disc brakes. Gear changing is handled through the handlebars, and the direct drive brushless DC hub motor produces up to 4.5kW of energy.
Besides being available in Australia, the Stealth Electric Bikes should be available soon in Europe. No word on US distribution, though the owner of the bike company is said to be looking for a national distributor.
Looking for green gadget gift ideas for this holiday season? We have you covered with our annual Green Gadgets Holiday Gift Guide – check it out now!