To give you a sense of how slowly the Solana Generating Plant has proceeded, the press release announcing the solar power project said it was "scheduled to provide renewable energy beginning in 2011." In the three years since that announcement, Solana has remained little more than a plan – until now.
The 250-megawatt (MW) parabolic trough concentrating solar plant appears assured of becoming a reality after the U.S. Department of Energy announced in a press release that is has wrapped up a $1.45 billion loan guarantee with developer Abengoa Solar. "As the world's largest solar plant of its kind, Abengoa's Solana project is playing an important role in creating jobs and clean energy for Arizona as well as fostering innovation in the United States," Energy Secretary Steven Chu said in the release. The loan is the largest ever under the federal program, topping the $1.37 billion guarantee BrightSource Energy received to build the Ivanpah plant in California.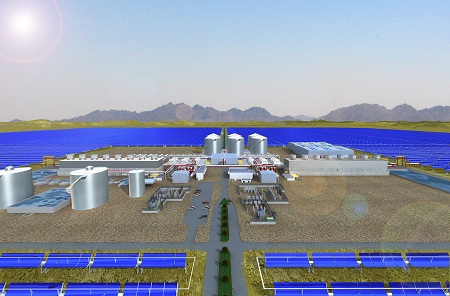 The Arizona plant, to be built 70 miles southwest of Phoenix near Gila Bend, is notable for its size, as Chu alluded to, and also for its use of molten salt to store energy that can then be used if the skies cloud up, or after sunset. Abengoa said in its own press release that "the Solana project is the first large-scale solar plant in the United States capable of storing the energy it generates." That might turn out to be true, but while Solana has stalled other developers have been moving forward on plans to use similar technology. SolarReserve, in fact, just got the OK from Interior Secretary Ken Salazar to build a plant using molten-salt energy storage on federal lands in Nevada.
Abengoa said its plant will produce enough energy to serve 70,000 households. The power will go to Arizona Public Service under a 30-year deal. Under Arizona's renewables portfolio standard, the utility must be getting 15 percent of its power from renewable sources by 2025.
Looking for green gadget gift ideas for this holiday season? We have you covered with our annual Green Gadgets Holiday Gift Guide – check it out now!