The 117 mile long Sunrise Powerlink transmission line, being developed by San Diego Gas & Electric (SDG&E) to bring renewable energy from large scale clean power projects in California's Imperial Valley to a growing population base in San Diego, has begun construction. The $1.9 billion project is expected to be completed in 2012.
The 500 kilovolt Sunrise Powerlink will have the capacity to carry at least 1,000 megawatts of clean power, or enough energy to power approximately 650,000 homes, according to SDG&E. In the past six months, the Sempra owned utility has signed several contracts with developers for more than 300 megawatts of solar energy, which will be transmitted along the line.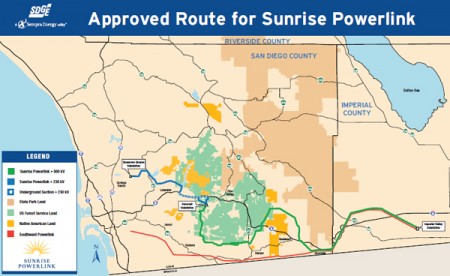 Approvals on such a major project have taken the last several years to get secure, including the California Public Utilities Commission (CPUC) in late 2008, the U.S. Department of the Interior's Bureau of Land Management (BLM) in early 2009, and the U.S. Department of Agriculture's United States Forest Service (USFS) earlier this year. The CPUC also had the final nod on the Powerlink, giving its blessing to SDG&E in late November for construction to begin.
As is always an issue with projects of this size, environmental considerations were a major factor in final approvals. The utility said a collaborative effort between it and the multiple public agencies it needed sign off from resulted in mitigations to the project, including preserving sensitive areas within the Cleveland National Forest. SDG&E said as well it "has developed a Habitat Acquisition Plan that will preserve thousands of acres of sensitive habitat and create sanctuaries for several threatened and endangered species in San Diego and Imperial counties."
As far as jobs goes, the Sunrise Powerlink is expected to create 400 to 500 construction jobs over the next two years. Additionally, it is believed green collar jobs will be created in the greater Imperial Valley area tied to the renewable energy sites providing power to the transmission line.
Looking for green gadget gift ideas for this holiday season? We have you covered with our annual Green Gadgets Holiday Gift Guide – check it out now!