As Toyota celebrates 10 years of the Prius, one thing the very popular hybrid has never really had going for it for many people is the look. We've heard it described as an egg on wheels, for example. The folks at Toyota in the UK seem to want to do something about that, recently announcing a limited run anniversary edition which is pretty pimped out.
The Prius 10th Anniversary model, of which just 1,000 vehicles are being made available, keeps the typical look of the hybrid. Added to it though are a special body kit, 17-inch smoke-finished alloys, privacy glass and black leather upholstery embossed with a 10th anniversary logo. How's that for a nice little tweak to the look of the car?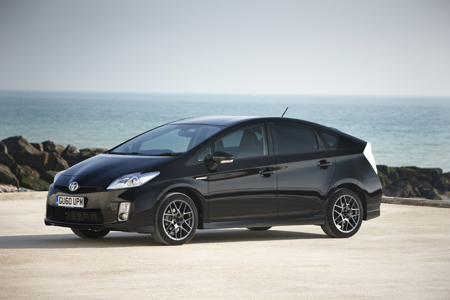 This limited edition Prius is priced at £26,150 on the road (with 20% VAT) and will have first deliveries made to those who order one this winter. Of course, it looks like you have to live in the UK to get this one. For those who can, it will also sport top of the line features, including HDD satellite navigation (with integrated sound library), rear parking monitor, Bluetooth, Intelligent Park Assist, cruise control, smart entry and start, rain-sensing wipers and head-up display.
Like what you are reading? Follow us on RSS, Twitter and Facebook to learn more and join the green technology discussion. Have a story idea or correction for this story you are reading? Drop us a line through our contact form.