Turkey Day approacheth, and with it, for much of the country, decidedly colder temps. Not so in sunny Los Angeles, California, which has been heating up via the many fine green cars we've been seeing showcased this week at the LA Auto Show.
Here's a round up of some of our favorite cars from the many we've posted on over the past few weeks or so–and if you're out there in Los Angeles, basking in the sun, do us a favor: go see check out these new green cars for yourself.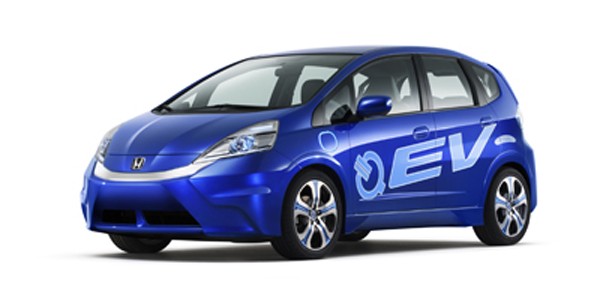 Back around the turn of the millennium, Toyota got the jump on the green car market by beating out the Honda Insight with the Prius. In the brave new world of electric cars, which automaker will come out ahead? Only time will tell, but the Honda Fit EV Concept offers an interesting glimpse of what's to come. The Fit Electric is slated for U.S. and Japanese production in 2012, and if all goes according to plan for Toyota, will feature a top speed of 90 miles per hour, achieve an estimated 100 mile per charge and charge up (via quick charge station) in less than six hours.
Fit Electric drivers will be able to choose between  Econ, Normal, and Sport mode to, alternately, conserve battery life or improve acceleration. Onboard goodies also include a a special meter display that advises you on when to cut the AC and other peripherals to conserve battery life,  remote connectivity, and a navigation system that locates public charging-stations.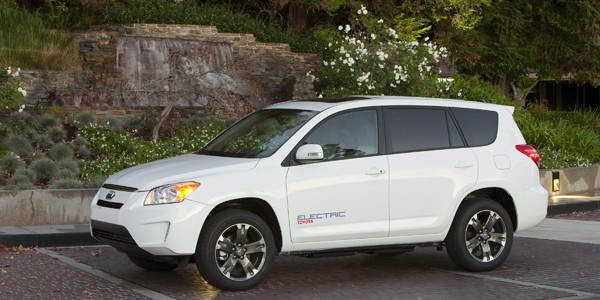 Oh yeah, Honda? Think you've got what it takes to compete in the new electric vehicle market? Watch out, because Toyota and its new buddy Tesla Motors are pulling up quick behind you with an all-electric version of its popular RAV4, also slated for production in 2012.  This electric vehicle will feature a driving range of 100 miles in actual road driving patterns, in a wide variety of climates and conditions–an important consideration for would-be electric owners in cold climates, where batteries have been known to seize up.
Tesla will be handling the battery and other related parts for the RAV4 Electric, while Toyota is responsible for the powertrain.  The final design will have a few styling touches distinct from its non-electric predecessor, but luckily, all of its 73-cubic-foot cargo space.
The parade of new electrics continues with Mitsubishi's i-MiEV–the car that's been rolling across the great white north recently as part of the Clean Across Canada Tour; and also the Euro version, which made its big debut earlier this year at the Paris Auto Show. Now, at last, it has been made clear that the U.S. is also on the list of countries slated to see the roll-out of this pint-sized electric.
Though there's no word yet on the range of the electric i-MiEV, Mitsubishi has come forward with a price-point around $30,000, not including federal and state incentives where available. It will be shipped first to dealerships in the western United States–California, Oregon, Washington and Hawaii, specifically–in November 2011. After that, the i-MiEV will appear in showrooms in the northeast and then around the country by the end of 2012.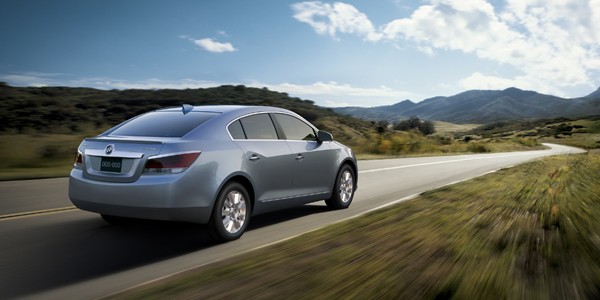 We've all heard about Motortrend's Car of the Year, the Chevy Volt, and probably a bit about the Ford Fusion Hybrid. Can the staid old American auto brand Buick get some of that green car love? They're hoping to with the new LaCrosse hybrid.
The hybrid version of the LaCrosse–due out in 2012–will feature an eAssist "light electrification" system, producing a 25 percent boost in fuel economy. The system makes use of a lithium-ion battery and an electric motor-generator to enable regenerative braking, achieving 37 miles per gallon (MPG) on the highway and 25 MPG in the city. Making it a hybrid, perhaps, even your grandmother would love.
Mercedes B-Class F-CELL Fuel Cell Car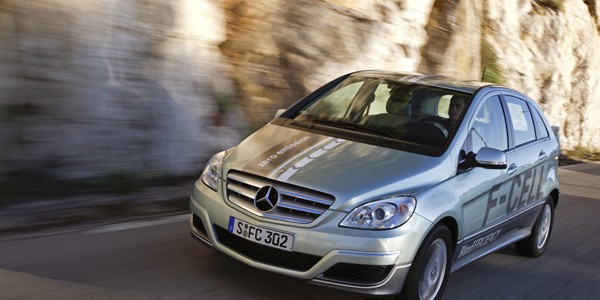 Lest you come away with the impression that all of the new green cars being featured at the LA Auto Show are electrics or hybrids, we'd like to bring your attention to the Mercedes Benz B-Class F-CELL. That F-CELL, as you might imagine, stands for 'fuel cell,' which means this exclusive new car (and we do mean exclusive) will be powered by that futuristic renewable we've all been waiting for, hydrogen.
"Selected customers" will receive the Mercedes F-CELLs on a rental basis before the New Year, with a total of around 70 being made available in California by 2012. (The company plans to gather information by renting these cars before moving on to full production). This car, certified as a zero-emissions vehicle by both the Environmental Protection Agency and the State of California, will be the first fuel cell powered electric car produced under series production conditions in the USA. It has a range of around 248 miles (400 kilometers) and can be refueled with hydrogen in less than three minutes.