South Korea announced a major investment today in wind power, committing 9.259 trillion yuan, or $8.2 billion, in public and private investment into a large scale, offshore wind farm. This farm, once completed by 2019, will be one of the largest in the world at 2,500-megawatts (MW) of capacity.
The South Korean Knowledge Ministry, in a statement, said the farm will have a total of 500 giant offshore wind turbines by the time it is fully built out. Plans for the large scale development are phased, with a 100 MW test facility coming by 2013, a 900 MW capacity by 2016 and the balance by the time the full operation comes online.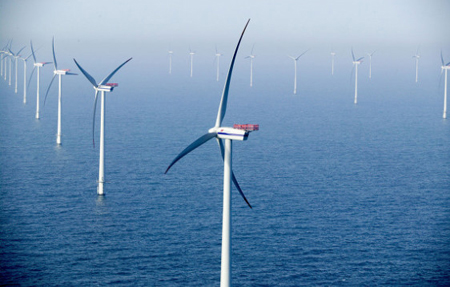 Bloomberg reports the wind farm, which will go off the country's west coast, "will give South Korean companies that want to export equipment and facilities a chance to build up experience and access to technology." The AFP notes as well that companies such as "Hyundai Heavy Industries and Daewoo Shipbuilding and Marine Engineering" will build the turbines.
South Korea is not alone in ts quest to create offshore wind energy. Other countries which have shown interest in this space include the U.S., Germany and the U.K.
Like what you are reading? Follow us on RSS, Twitter and Facebook to learn more and join the green technology discussion. Have a story idea or correction for this story you are reading? Drop us a line through our contact form.