With help from the U.S. Department of Energy, a pair of companies have joined together to develop what was once known as the nation's largest continuously erupting geyser. Nevada Geothermal Power (NGP) and Ormat Nevada said they expect to have one well drilled this year at Crump Geyser in the Warner Valley in south-central Oregon, and to have a 30-megawatt power plant up and running there by the end of 2013.
A $1.76 million grant from the Department of Energy had assisted NGP in its exploratory work on the site, and the new partnership said it intends to apply for a loan guarantee under the American Recovery and Reinvestment Act as it enters the drilling and construction phase.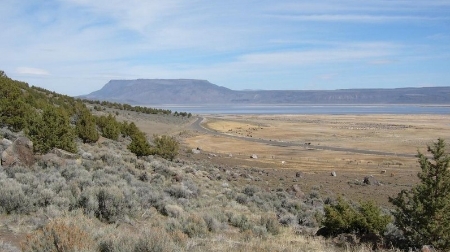 According to the company, the site, located on the east side of the Cascade range just north of the California state line, is in a thermal activity zone considered "one of the most promising geothermal areas in the Northwest" by the Renewable Northwest Project. In addition to its natural endowments, Crump comes with a significant man-made advantage:  a power line connection to the regional power grid and a transformer substation just less than a quarter-mile away.
A recent Geothermal Energy Association report predicts a boom in geothermal development in 2011, thanks to no small part to federal government backing.
The Crump Geyser has a fascinating if checkered history, as told on the NGP website. Within days of drilling in the area in the 1950s, a geyser erupted, sending steam and water more than 45 meters (150 feet) into the air. "It was, at this time, the site of the largest continuously erupting geyser in the United States," according to NGP. The site was not fully developed, however, and in the 1960s was vandalized, with boulders thrown in the casing. After that, "The geyser continued erupting, but only to a height of approximately 18 meters (60 feet), and with periods of inactivity of about two minutes."
Like what you are reading? Follow us on RSS, Twitter and Facebook to learn more and join the green technology discussion. Have a story idea or correction for this story you are reading? Drop us a line through our contact form.