When it comes to cleantech, an investment boom is rumbling, despite the struggling economy–and now, there's a website that brings together cleantech start-ups and investors, which is billing itself as "the LinkedIn for the green economy."
OnGreen is a Los Angeles-based social media platform that promises to drive money to the most promising cleantech ideas, and it would appear that this claim is based in some degree of fact, as a September survey found that more than 50% of start-ups who posted their business plans on the site said they were contacted by angel or venture capitalist investors as a result.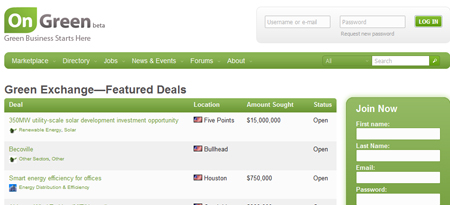 One of the chief advantages of the social media platform is its international focus. Nearly 300 entrepreneurs from more than 35 countries have posted business plans since OnGreen launched in July, seeking both community feedback and funding. Nearly 40% are from outside the U.S, but domestic entrepreneurs are also starting to find OnGreen a useful option for attracting potential investors outside the usual avenues of funding. OnGreen provides investors with filtering tools to pinpoint their search, along with community reviews that help to establish the potential return of different technologies and business plans.
Like what you are reading? Follow us on RSS, Twitter and Facebook to learn more and join the green technology discussion. Have a story idea or correction for this story you are reading? Drop us a line through our contact form.