First there was the Energy Star guide to greener electronics. Then there was the Greenpeace guide to responsible manufacturers. Now there's yet another helpful tool for determining the greenest appliances on the market, TopTen USA's web-based rankings of the 10 most energy-efficient products in the following categories: refrigerators, freezers, televisions, computers, vehicles, dishwashers, clothes washers, and monitors.
According to Top Ten USA, a newly incarnated nonprofit organization, the website offers unbiased, independent rankings on the ten most energy-efficient products in each of these categories, offering "a valuable new addition to the information supplied by the Environmental Protection Agency's Energy Star program." Products on the site are evaluated primarily on energy efficiency but, depending on the type of product, may also take into account additional environmental, health and safety concerns.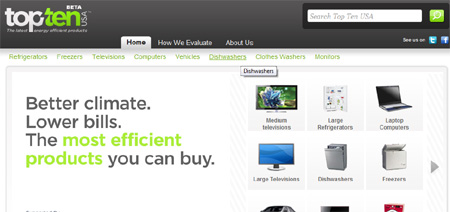 TopTen USA is a member of the TopTen International Group, a global alliance of TopTen organizations dedicated to efficiency in electronics and appliances; since receiving nonprofit status, the organization has received the endorsement of some big players in environmental protection, such as World Wildlife Fund and the Natural Resources Defense Council.
Like what you are reading? Follow us on RSS, Twitter and Facebook to learn more and join the green technology discussion. Have a story idea or correction for this story you are reading? Drop us a line through our contact form.