From the Air Force to the Army, the U.S. military is churning out lots of news about clean-energy initiatives these days. And now the Navy, looking for its share of the spotlight, is unveiling Greenfleet Online, a website dedicated to its doings regarding energy, environment and climate change.
The services are always careful to cast their green efforts in terms that don't make them sound too much like, well, environmentalists. In the press release announcing Greenfleet Online, the Navy notes that it is tackling questions of energy security, environmental stewardship and a changing climate in order "to increase combat capability and ensure mission readiness in the decades to come."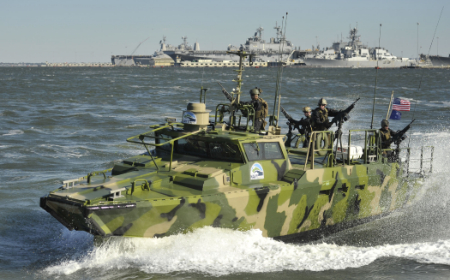 An example of the kind of thing found on the site: a press release about a 49-foot "fast and agile" Riverine Command Boat that runs on alternative fuels —  "50 percent algae-based and 50 percent NATO F-76 fuel, which forms a 50/50 blend of hydro-processed renewable diesel, also known in industry as 'HR-D.'"
Still, the website details a good deal of stuff that would warm the hearts of even the most pacifistic citizen of Mother Earth. For instance, there's the story of a shoreline restoration project, during which "volunteers helped plant a variety of wetland grasses, trees and shrubs, which are native to the Chesapeake Bay, along the waters edge to help stabilize the area, reduce erosion, protect the existing land and provide a habitat for numerous species of wildlife."
And if there's controversy among Washington politicians about the threats posed by climate change, the Navy sure doesn't share it. Greenfleet Online's section on the issue includes extensive information on the service's efforts to assess, adapt to and mitigate its impacts, particularly in the Arctic.
Like what you are reading? Follow us on RSS, Twitter and Facebook to learn more and join the green technology discussion. Have a story idea or correction for this story you are reading? Drop us a line through our contact form.