While debuting its new Fit EV Concept vehicle at the Los Angeles Auto Show this week, Honda also unwrapped its plug-in hybrid platform, a two-motor system using a 6-kilowatt-hour (kWh) lithium-ion battery with a 120 kW motor, plus a 2.0-liter i-VTEC four-cylinder engine. The technology will come to market in 2012, the company said.
Honda said the plug-in hybrid platform, bound for its mid-size sedans, would get 10-15 miles in electric-only mode with a top speed of 62 miles per hour. Combined with the four-cylinder engine, this setup is "compatible with daily driving habits," the company said, "allowing for short, frequent trips in all-electric mode, while providing long-distance driving capability when needed."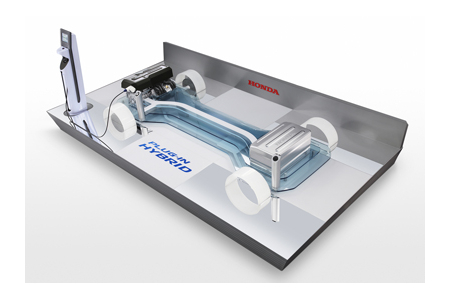 The vehicle also boasts a third mode, Honda said: "For more efficient high-speed cruising, the vehicle can engage in a direct-drive mode, in which only the engine drives the front wheels."
Fully charging the plug-in hybrid, Honda said, would take between two and two and half hours plugged into a standard household 120-volt outlet. With a 240-volt outlet, that time is trimmed by about an hour.
Looking for green gadget gift ideas for this holiday season? We have you covered with our annual Green Gadgets Holiday Gift Guide – check it out now!