What will it take to electrify General Motors (GM)? The U.S. Department of Energy (DOE), GM and other sponsors (such as Natural Resources Canada) want to find out. That's why they're hosting EcoCAR 2: Plugging In to the Future, a collegiate automotive engineering challenge.
The goal of the EcoCAR 2 competition will be to build on the 22-year history of the DOE's Advanced Vehicle Technology Competitions by developing "the next generation of automotive engineers with unparalleled experience designing, building, promoting and demonstrating advanced vehicle technologies."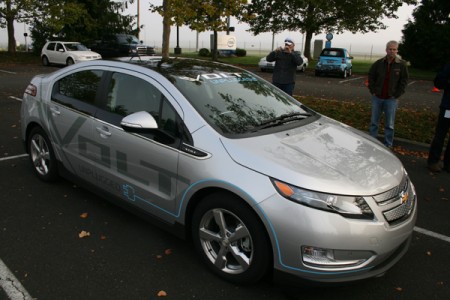 Towards that end, beginning with the 2011 academic year,  up to 16 universities will be selected to participate through a competitive request for proposal (RFP) process. Those university teams will be challenged to minimize the environmental impact of an existing GM production vehicle, using various electric powertrain architectures.
Institutions of higher learning are invited to submit a brief Expression of Interest Survey in order to receive the RFP when it becomes available this month.
Want to win a solar power charger for your mobile gear? We are holding a contest for one through November 12, 2010. Sign for our newsletter to enter – details can be found at our Contests page.