You know the "Your Speed" signs that flash how fast you're going as you drive by? Traffic engineers overwhelming agree these so-called driver-feedback devices are the most effective technique for slowing traffic. Which is why Dan Kidwell's Eco-Tunes Water Saving Music Player might be a pretty darn good idea.
Kidwill has imagined a device that hooks into your showerhead and — visually and audibly — provides feedback intended to inspire water conservation. As you wet, suds up and rinse, an LCD screen suctioned to the wall, just like a shower caddy, displays water-use data. You can see the running total in liters, or enter a preset amount and have the device tell you how much time remains before you reach that level.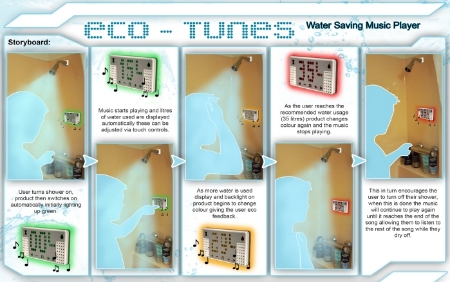 Meanwhile, as you use more water, the volume of the music rises and the color of the LCD goes from a calm green, to a middling orange and finally to a raging red. Then the music stops playing. That's when you've gone too far, you water hog.
In his design, Kidwill suggests 35 liters (just over 9 gallons) as a shower limit. With an old showerhead churning out around 5 gallons per minute, that's a very hasty session. Then again, maybe an Eco-Tunes Water Saving Music Player would inspire more of us to adopt low-flow heads — they bring the flow rate as low as 1.6 gallons per minute, and that translates to five or six luxurious minutes in the shower.
Looking for green gadget gift ideas for this holiday season? We have you covered with our annual Green Gadgets Holiday Gift Guide – check it out now!