Tesla Motors recently joined the ranks of greener carmakers who've faced a safety issue necessitating recall (Toyota recently recalled 400,000 Prius and Lexus HS 250h models, due to braking problems). However, it would appear that the electric car whiz-kid company is being extra-cautious to protect their brand, as this recall comes after only a single incident with a single car.
The recall, which affects the Roadster models 2.0 and 2.5., came after a customer reported smoke due to a short produced by a low voltage auxiliary cable as it chafed against the edge of a carbon fiber panel in the vehicle behind the right front headlamp. The auxiliary cable in these models connects to a redundant back up system that provides power to various systems–including the headlamps, taillights, turn signals and hazard lights, and airbags–in the unlikely event that the Roadster's primary 12V power fails or drops below a minimum threshold value. The issue is limited to the cable associated with this redundant power system and does not involve the main battery pack or main power system.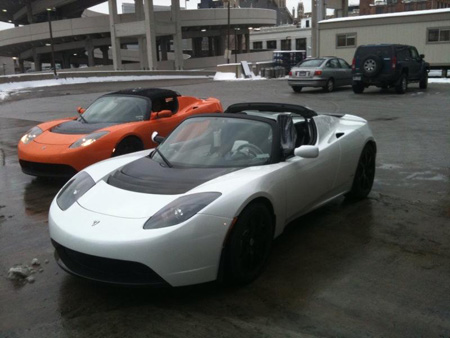 If you own one of these Roadster models, rest assured knowing that your friendly Tesla Service Rangers will be happy to correct the situation ASAP. This correction involves checking the routing of the 12V low voltage auxiliary cable and installing a protective sleeve over it–a service that can performed at the customer's home or office in about an hour.
Like what you are reading? Follow us on RSS, Twitter and Facebook to learn more and join the green technology discussion. Have a story idea or correction for this story you are reading? Drop us a line through our contact form.