Suncor actually made one of its Alberta critics smile. The company, a big player in the province's controversial tar sands industry, accomplished that feat by announcing a partnership with Teck Resources on an 88-megawatt (MW) wind farm about 80 miles east of Calgary.
The Wintering Hills Wind Power Project, near Drumheller, Alberta, was approved by regulators in June this year and Suncor actually began construction a month later. With a $64 million (US) investment from Teck,  the company said it expects to complete the project by the end of 2011 and foresees producing enough electricity to power 35,000 homes. Under the deal announced, Suncor will own 70 of the venture, Teck 30 percent.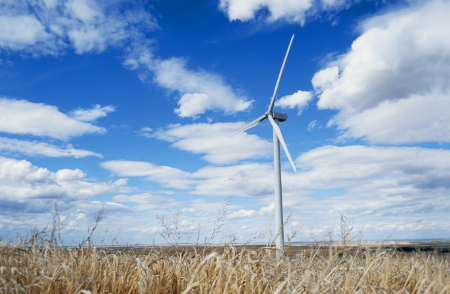 Suncor was the first company to begin mining Alberta's tar sands (also known as oil sands), in the 1960s. The complex, energy-intensive process requires open-pit mining for oil-rich bitumen. U.S. agencies say the practice has "a variety of environmental impacts, such as global warming and greenhouse gas emissions, disturbance of mined land, (and) impacts on wildlife and air and water quality."
Suncor's efforts to make the process relatively cleaner have drawn mixed reviews, but its partnership with Teck on wind drew praise from the Pembina Institute, a frequent critic. "It's been a while since we've seen a relatively significant commitment or announcement on a wind farm in Alberta, and we're in fairly tough economic times," Executive Director Marlo Raynolds told the Calgary Herald. "It is positive to see that Suncor is following through on investment to renewable electricity."
Like what you are reading? Follow us on RSS, Twitter and Facebook to get green technology news updates throughout the day and chat with other green tech lovers.