If you live in the Golden State and you're looking for a job in the state's fastest growing economic sector–green jobs–look no further than Green Job's California, created by the Environmental Defense Fund. Believed to be the first website of its kind, Green Jobs California is being billed as a comprehensive resource for job seekers and guidance counselors who want to join or learn more about the state's emerging green economy.
More than just a greener version of Monster or Jobs.com, the state's green jobs website features listings of the thousands of businesses, institutions and organizations that comprise the state's green economy, as well as Faces of Green Jobs, a mini-documentary showcasing the experiences of men and women in California's green sector, and a  map of California's green economy that lists the state's workplaces involved in energy generation, energy efficiency, green buildings, transportation, carbon markets and sustainable business practices, sortable by county and state legislative district.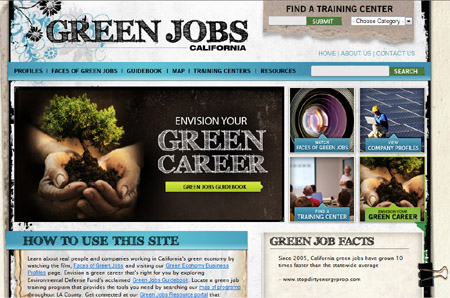 "California has the nation's largest clean energy economy thanks to entrepreneurial, innovative companies and ground-breaking energy policies," said Derek Walker, director of EDF's California Climate Initiative, in a statement. "Green Jobs California can help job seekers—whether they're recent college graduates or mid-career employees looking to build and utilize new skills—create a game plan for finding employment in this emerging market. It will also help green companies find the skilled workers they need to expand and compete in the $8 trillion global green industry."
Like what you are reading? Follow us on RSS, Twitter and Facebook to learn more and join the green technology discussion. Have a story idea or correction for this story you are reading? Drop us a line through our contact form.