It would be bigger news if the National Renewable Energy Laboratory put up a building that didn't run largely on renewable energy. Still, the scope of the solar installation on the lab's new Research Support Facility (RSF) is impressive: 1,800 panels producing 240 watts apiece on the roof, plus additional photovoltaic on an expansion to the RSF that's under construction, as well as on nearby parking structures.
It all adds up to 1.6 megawatts of solar for the Golden, Colorado facility. But the solar panels, the lab said in a press release, are just the most obvious things enabling it to expand its office space by 222,000 square feet while increasing overall energy consumption by a mere 6 percent.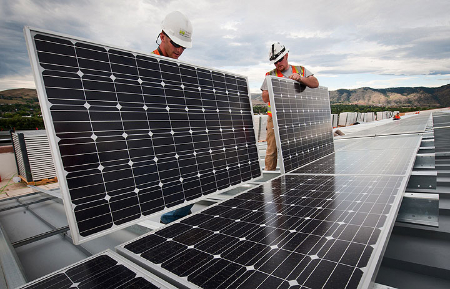 The NREL points to "siting of the building on the land, day lighting in office spaces, energy efficient work stations and use of recycled materials" as just as important — and says those factors have the building bidding for Platinum LEED Certification.
Ironically, the NREL doesn't actually own the solar installation. The private company Sun Edison built it, owns it and operates it. Sun Edison then sells renewable energy credits gained from the system to Xcel Energy, which helps the utility meet its state mandate for renewables. Meanwhile, "the federal government does not incur the upfront costs of purchasing the PV system," said the NREL's Randy Dins said, which means the feds "can accurately budget for a fixed price for solar electricity for a fixed period of time."
Like what you are reading? Follow us on RSS, Twitter and Facebook to learn more and join the green technology discussion. Have a story idea or correction for this story you are reading? Drop us a line through our contact form.