Exotic car company Lotus apparently had a few extra green cars to pull out of its hat at the Paris Auto Show yesterday. Having already unveiled the Elite Hybrid and its $178,700 price tag, Lotus caught some off guard by showcasing, among others, the new Eterne four seater sports GT, of which a hybrid version will be available in 2015.
The Lotus Eterne, according to a Lotus press release posted by Zer Customs, is a four door sports car that will sport a 5.0 litre pressure charged V8 engine delivering up to 620 PS and allowing for 0-100 km/h in 4.0 seconds and a top speed of 315 km/h. An optional full hybrid transmission will take this vehicle into the green car realm, offering a hybrid gearbox with integrated electric motors and KERS (regenerative braking) to give the Eterne a 220 g/km CO2 emissions level.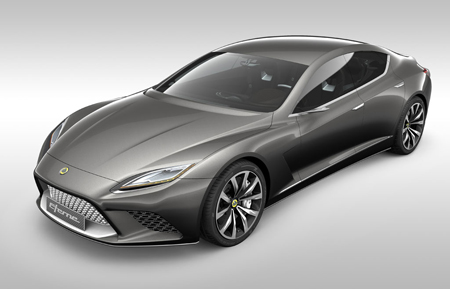 Pricing for this vehicle is set for around £120,000, though with the hybrid option that will probably go up. It should be noted that Lotus is also adding hybrid options to other cars in an expanded line up showcased at the Paris auto event, including the Esprit, Elan and Elise. Hybrid technology will vary somewhat from vehicle to vehicle, with some only sporting what is called "mild hybrid technology."
Like what you are reading? Follow us on RSS, Twitter and Facebook to get green technology news updates throughout the day and chat with other green tech lovers.