Lotus, besides showcasing a myriad of new hybrid cars at the Paris Auto Show, also brought with it a new concept car developed especially for those living in cities. It is called the City Car and it is propelled by a plug-in hybrid design which is supplemented by a range extender option.
The Lotus City Car concept, according to a Lotus press release over at Zer Customs, has a range of 60 km with the plug-in hybrid design alone. The range extender technology takes this up to an impressive 500 km via a 1.2 litre, 3 cylinder engine specifically designed for hybrids. The car sports a a 240 Nm, 54 kW continuous (162 kW peak) generator and returns CO2 emissions of 60 g/km on the ECE-R101 test schedule.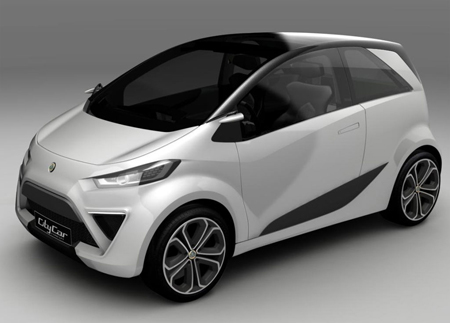 The City Car, with 240 Nm of torque, offers nice acceleration of 0 – 50 km/h in only 4.5 seconds and 0 – 100 km/h in 9 seconds when operating as an electric vehicle under battery power. The top speed of this concept is 170 km/h, with a charge sustaining top speed of 120 km/h. Design wise, the car has all the usual curves and sleek looks which mark it to be something from a company like Lotus.
"Lotus Design has created a vehicle that condenses the essence of Lotus into a low carbon Lotus City Car," said Dany Bahar, Chief Executive Officer of Group Lotus, in a statement, "with many inspired design touches. The progressive technology from Lotus Engineering gives the car an advanced drivetrain that can be operated in Zero Emissions EV mode or run on its flex-fuel engine."
Like what you are reading? Follow us on RSS, Twitter and Facebook to get green technology news updates throughout the day and chat with other green tech lovers.