Seat, a Spanish automaker, brought with it to the Paris Auto Show its own fun little concept all-electric vehicle. It is called the IBE and it looks to take the form of a super compact sports coupe for those living in more urban environments.
The Seat IBE, according to the company, is capable of a a maximum output of 75 kW (102 hp) and 200 Nm of torque. It is rated to go from from 0 to 50 km/h in only 3.6 seconds; within 6.6 seconds, the IBE has reached 80 km/h, and after only 9.7 seconds it arrives at 100 km/h. Its continuous power rating is limited to 50 kW (68 hp), it has a top speed pegged at 160 km/h and range is somewhere around 130 kilometres.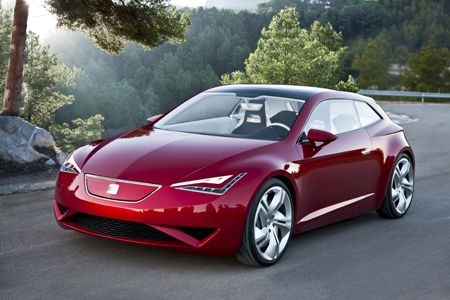 The IBE is a 2+2 coupe with folding rear seat backs offering additional space for leisure gear, sport equipment or weekend luggage. The drive motor is located together with the power electronics at the front of the car. What is described as the driver-oriented architecture has, among other items, a large information display that supplies vehicle information like speed and charge status, and enables access to and operation of functions from the user's personal device/smart phone. Most of the display's functionality is accessed via touchpads on the steering wheel spokes.
Like what you are reading? Follow us on RSS, Twitter and Facebook to get green technology news updates throughout the day and chat with other green tech lovers.