[Editor's Note: This original piece by Greenpeace kicks off our new columns feature on EarthTechling, where we invite a variety of individuals and organizations related to green technology to voice opinion on a given topic or talk more about their organization or cause. Views presented here do not represent an editorial EarthTechling opinion, but rather of the guest author. If you'd like to be considered for a column, please drop us a line.]
Michael Dell once said: "I have always believed that IT is an engine of an efficient economy; it can also drive a greener one."
Greenpeace agrees. The IT sector is uniquely positioned to help the world shift to a new world unlimited by energy and our Cool IT Challenge is urging IT companies to put forward innovative climate solutions, lessen their own carbon footprint, and advocate for significant policy changes that will benefit both their bottom lines and the climate.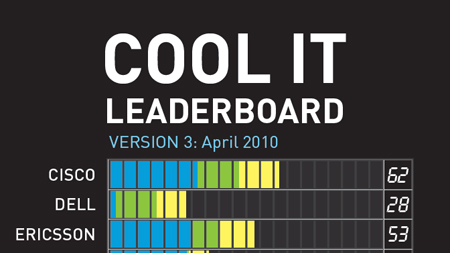 Our faith in the IT sector to lead is supported by independent analysis. In 2008, The Climate Group and the Global e-Sustainability Initiative (GeSI) issued a report, called SMART 2020: enabling the low carbon economy in the information age, which showed how the IT sector can reduce economy-wide global emissions of up to 15 percent by 2020 through such innovations as a smart grids and teleconferencing.
The energy revolution is already in progress and the early adopters are positioning themselves to thrive. Take Google, which is buying more wind energy to fuel its already efficient data centers. But for every successful progressive choice, wrong choices form a stark contrast. Facebook, is feeling the heat for opening a dater center that runs on dirty coal power. Instead of leading, Facebook is choosing to increase demand for dirty energy sources.
Now is the time for the IT sector to put forward solutions and capture the imaginations of both the public and policy-makers. The last few months have brought too many headlines about the deadly consequences caused by the old energy economy. IT can help end our dependence on fossil fuels and create new green jobs. Greenpeace will continue to work to help make sure the IT sector delivers on this potential and IT companies to make the right energy choices.
– By Daniel Kessler, Communications Manager, Greenpeace International