Banking on the idea that the "ick factor" is keeping people from composting their kitchen waste, a Colorado woman is introducing a counter top unit that she says "eliminates the mess and hassle." The box-shaped GreenCylcer is simple to use: Slide open a drawer; drop your food scraps into the container lined with a compostable plastic bag; turn the crank to shred the food via a self-contained stainless steel blade cartridge; and, when the bag is full, remove it and take it out to your compost pile or bin.
In a press release, Gail Loos said personal experience led her to invent the GreenCycler. "I've been composting for 20 years and was tired of using my food processor for shredding and ceramic crocks for storage," she said. "Every solution I tried took too many steps, and had a significant 'ick factor,' so I decided to come up with my own." Loos said by grinding the food up and reducing its volume by 80 percent, fewer trips to the compost pile are necessary and the compost process goes significantly faster.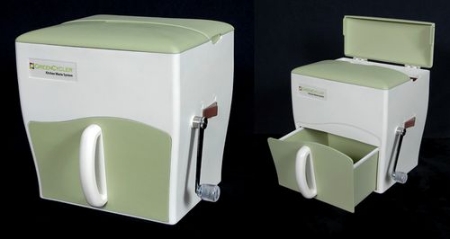 As Loos points out, discarded food is a huge source of waste in the United States — 12.7 percent of the municipal solid waste, according to the Environmental Protection Agency. And while the stuff does break down in landfills, it does so under anaerobic conditions that produce methane, a potent greenhouse gas.
Loos showed the GreenCycler at the recent West Coast Green conference in San Francisco.  It won't be available for a few months, but can be pre-ordered now for $99. While the GreenCycler isn't the world's first kitchen-waste composter, it is significantly less expensive than the automatic NatureMill products introduced a year ago.
Like what you are reading? Follow us on RSS, Twitter and Facebook to learn more and join the green technology discussion. Have a story idea or correction for this story you are reading? Drop us a line through our contact form.